Our MS Office-certified designers make Microsoft Word documents that are completely fillable, unprotected, and easy to use, save, copy, and use again. Your forms are e-mailed right to you. We always do a careful proof of each form to be sure it looks just like the federal form. In 9 years, we have designed over 15,000 Forms for 22,000 businesses, government agencies, and individuals, and we take pride in our personal customer service, excellent products, and $-back guarantee! (Note: If you don't see your form, just email us. We add forms daily & make personalized forms to order.) Questions: E-mail is fastest (forms@formsinword.com) or call 907-771-9022.
Wordsworth & Forms in Word have created a Microsoft Word document containing numerous organization charts that can be easily cut and pasted into the SF330 form. We are including templates with various styles and organized by different scenarios (prime, subcontractors, teaming partners or joint ventures) for the following firms:
Engineering & Environmental Firms, Architectural Firms,
Surveying Firms, and Construction Firms
HOW TO USE: Just choose one of our Word templates and paste into your SF330 Form. Our org charts are easy to update with your personnel names and titles, and we provide tips on updating, copying, and pasting, as well as adding and deleting components. We have created a detailed table of contents linked to each chart for quick and easy access to the chart you need immediately.
SF330 ORG CHART REQUIREMENT: A project team organizational chart is a required element in the new government A/E/C proposal form - the SF330, which will go into effect June 8, 2004, and which will replace the SF254/255. The SF330 instructions include the following regarding the org chart:
Section D. Organizational Chart of Proposed Team.

As an attachment after Section C, present an organizational chart of the proposed team showing the names and roles of all key personnel listed in Section E and the firm they are associated with as listed in Section C.
HOW TO PURCHASE: Our A/E/C Org Charts Templates in Microsoft Word can be purchased directly through our Web site (using PayPal) and will instantly be e-mailed to purchasers. The cost is now only $12.99
1. PURCHASE WORDSWORTH'S ORG CHART MANUAL USEABLE CHARTS FOR $59.00
The org chart templates are in a standard Microsoft Word report format, which includes chapters on using, creating, and inserting organization charts into Word, as well as how and where to paste your chart into the SF330 form.
Here is a picture of one of the charts that we have created in our manual:
If you'd rather send a check than pay with a credit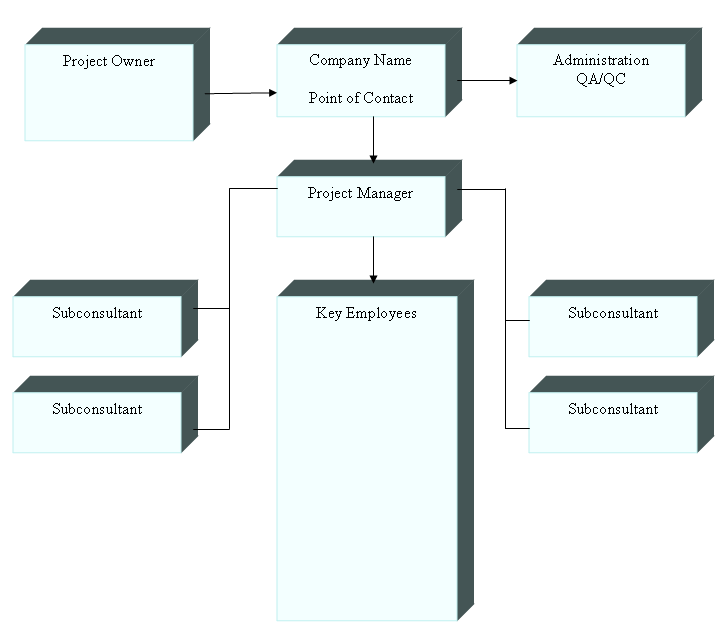 card, just email us with your request, and we will send the org chart template to you and an invoice via email.
Thank you for your order!