We are the Microsoft Word Forms Experts you have been searching for! Join our 22,000+ happy clients and try us out today – we have a $ back guarantee on all our forms – we are that sure you will love our forms! Let us be your own personal designers to build your forms today.
Forms in Word specializes in creating government and business forms as easy-to-use Word documents. All you have to do is start typing! All forms are designed and edited by and for professionals and are completely editable. Our forms can be copied, saved, reused, and printed easily…they are Word documents, not complicated or expensive software! We add automatic form fill features to make filling out your forms even easier. Our forms have been approved by & used by numerous federal and state agencies and look just like the government's PDFs but are so much easier and quicker to use.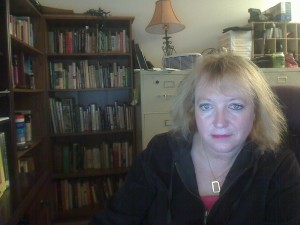 11 years making over 15,000 forms for you; we consider ourselves your form designer. Co-owner Lori Oswald, Ph.D., pictured at right, gives personal attention to each of our forms and responds to all questions from clients.

Specializing in federal forms – our customers include citizens and government employees.

We have had over 22,000 clients; we bring personalized service to each of you.

We are a small business, and we are entirely based in the United States (in Alaska, actually). To see an article about us,

click here.
Our forms are created by an MS Office Certified Designer with 20+ years experience creating, editing, and formatting technical documents for engineers, architects, contractors, environmental specialists, government agencies, medical professionals, insurance, real estate and law firms, and other clients. Next, our Technical Editor proofreads them against government documents for accuracy.
We specialize in creating professional-quality government & business forms in Word with automatic form-fill features.
Our forms are easy to use, save, copy, and change. You can use them over and over.

Just click on the Buy Now button to purchase; PayPal notifies us by e-mail, and we e-mail your form to you – right away in most cases, within 24 hours if we have to make the form.

Free answers to questions by form purchasers; just e-mail us.

If you're not exactly sure of the name or title of the form you need, email us, and we'll try to find out for you.

If you don't see the form you need, just e-mail us and we give you an estimate on creating it for you.

Money-back guarantee! If you are not satisfied with your form, just request a refund within 10 days of purchase, and we will gladly refund your money.
Thank you to all our wonderful customers! We hope that we can meet your form needs for years to come!
THANK YOU! This form worked GREAT! We are so pleased! We will be using your service again! In this day and age, speedy and personal customer care is almost non-existent. We very much appreciate your prompt responses and excellent services and will definitely promote your company to our business associates. We look forward to working with you again soon!–James Schultz, Southwest Petroleum Land Services
YOU ARE A GIFT FROM GOD. I cannot wait to get these docs done, hopefully in a few evenings this week. Your forms and your kind and good-natured assistance are a huge blessing. I will be happy to RAVE about your firm far and wide. I am so glad that we asked him what he would recommend. Your forms will make this so easy. Thanks again for your quick response and for the distinction between "our preferred" and the other forms.  Stay warm - and again, MANY THANKS!–Kink Brauer, Van Auken Akins Architects LLC
I have already filled out the form and my proposal is on it's way to Fed Ex. I surely do appreciate your speed! Thanks again - I'm sure we will use your company in the future. It is a fantastic resource for us. –Sarah